With Halloween coming up, parents are looking for that perfect costume for their child.
www.AnytimeCostumes.com is your year-round source for adult costumes, child costumes, plus-size costumes, costume accessories, theatrical make-up, masks, wigs, beards, props and holiday decorations. Anytime costumes has tons of costumes to fit your budget.
From site: AnytimeCostumes.com is a family owned and operated company. We began in 1975 as a retail party and costume store and grew to be Long Island's leading Halloween and holiday costume supplier. In 1999, we expanded to the Internet availing our 30 years of retail costume expertise to the world. At AnytimeCostumes.com, we strive to differentiate ourselves from the other costume sites.
Alex chose   Cinderella  Deluxe at $99.99
you get  Full length ball gown, long petticoat, fingerless gloves, choker and tiara.
Will chose Fireman at $19.99( let me tell you we live right across from a fire station and my son in love with fire trucks.)
            includes: soft hat, black coat, badge, boot covers, axe, flashlight.
Kenz chose-Hannah Montana with gold jacket at $49.99
Includes: Gold Jacket, gold top, black leggings, silver belt
We received the Hannah Montana Gold Jacket costume. It's really cute and my daughter loves it. We tried it on and it is a little big as they didn't have her size.   I was surprised at how glamorous the outfit is.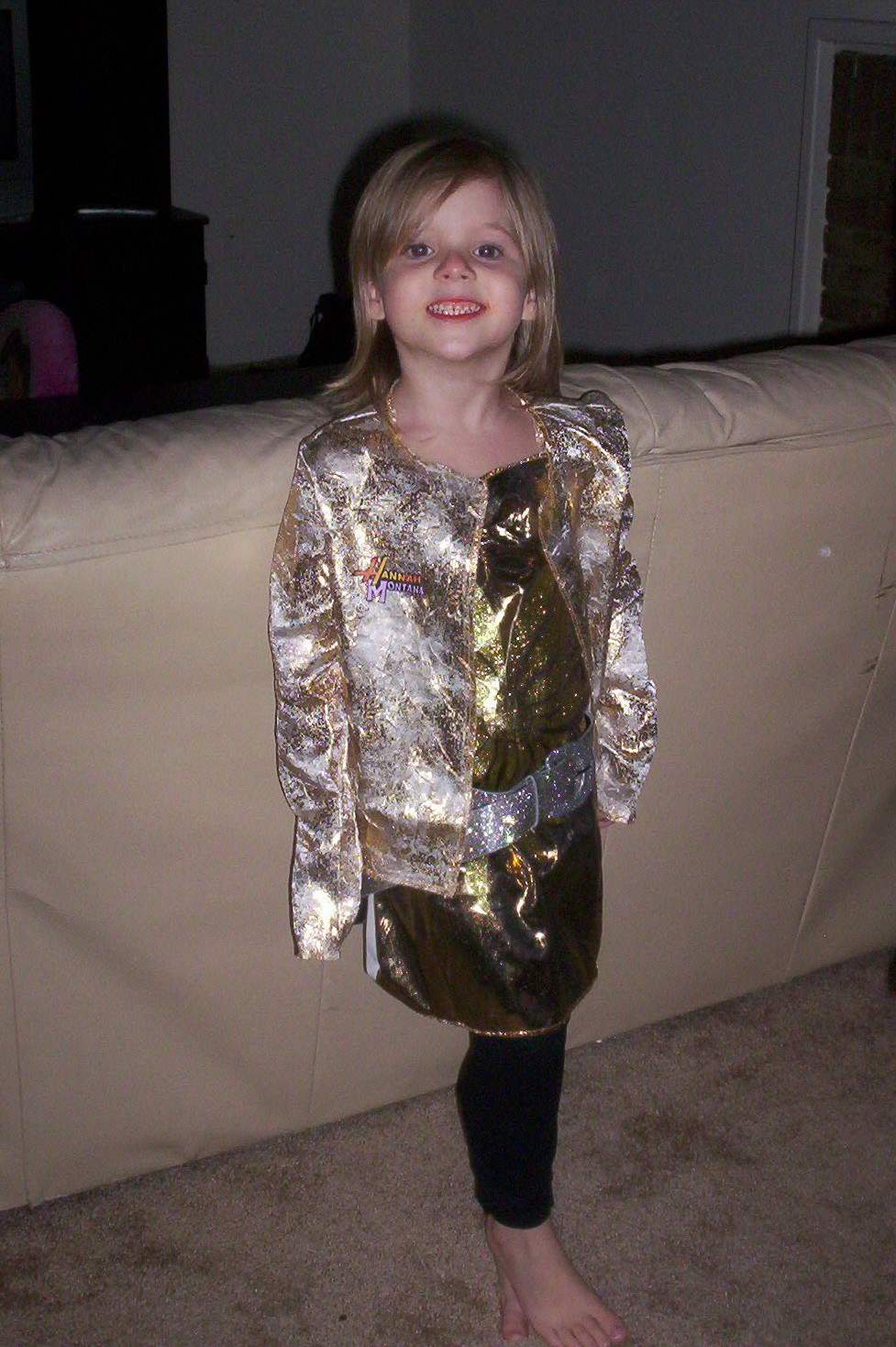 Isn't she a little Hannah Montana!
One reader will win a anytime costume for their little one.
to enter visit www.anytimecostumes.com and tell me a costume you like.
extra entries
follow me on twitter
subscribe to my feed
blog or tweet about this contest
contest closes 10/8/09