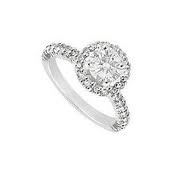 When my husband proposed he didn't use a ring, he just asked. Which was fine by me, Since he was preparing to deploy in just a few months. We just wanted to be married before hand.  We  had a courthouse wedding with gold bands we bought a department store. We didn't have any family or friends there it was just us. So I have alway s Dreamed of having a big wedding with family and matching rings everything. Some day that will happen!
When my husband was deployed I ended up losing my gold band, at beauty school. So I went out to a department store and I got matching wedding bands. It's a nice band but cheap, and now falling apart. It's just a gold wedding set with a few diamonds, that are not real. It's not anywhere near being my dream band. Even though we are far away from having our big wedding, I still like to look around for my dream wedding ring. There are just so many different styles and cuts to choose from it can be overwhelming.  I just want a nice ring, just with a few small diamonds
I don't want anything really fancy just a wedding band set with a few sparkly diamonds.  I have found a website that lets you create your own ring and choose every aspect of it and I love that. The site is Called 77 Diamonds and they have so many different ring styles and occasions to choose from. Engagement rings, promise rings, wedding bands, and even more than that they have earrings and necklaces.
Disclosure: This post is compensated, all opinions are my own.