This is kind of sad but true. For the past 3 years I have lived out of a duffle bag. We had a dresser but when we moved we decided to get rid of it since it was falling apart, and just never bought another one. Finally after digging in a duffle bag over and over, never finding anything i wanted, we bought a dresser.    We just bought one online and hubby put it together.
We bought a South Shore dresser from Kmart. I actually really like it, I just hope it will last.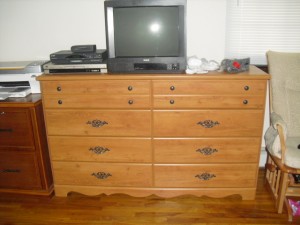 It's got 8 drawers and seems very sturdy.
Disclosure: No compensation was received for this post.