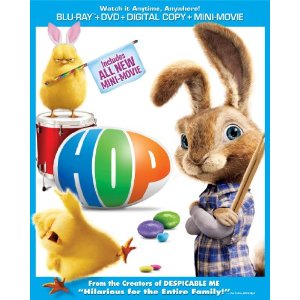 We were able to have a Hop movie screening night. We decided Easter would be the perfect night to sit down as a family and watch the movie, since all of our schedules are clear.
My kids and I were able to see Hop in theaters during a birthday party, but my husband has never seen it. They have been anxiously awaiting today to share the movie with their dad.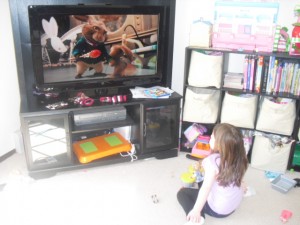 The movie was so hilarious. E.B Bunny doesn't want to take over as the Easter Bunny, but wants to become a famous drummer. He sets off to Hollywood, where he meets Fred. They end up being best friends and through all the obstacles become co-Easter Bunnies!  One of my favorite parts in the movie was when E.B pretended to be a stuffed animal, and was making faces whenever Fred's sister Sam would hold E.B. Then he pretended to be a walking toy that claps his hands, It is so funny and cute.
Release date: March 23, 2012
Retail:$39.98 but you can find on Amazon $22.99
Rating:10
Disclosure: No formal compensation was received for this post. Products were provided for my review.