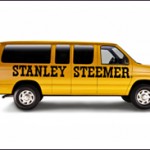 Having 3 kids, we try to clean our carpet every few months. Yes, it gets that messy! Having our own steam cleaner you would think our carpet would always get clean unfortunately it does not.
I am going to be taking the Stanley Steemer challenge soon, and see how well my carpet comes clean. I love the fact that they do protection on your carpet.
Stanley Steemer offers
Not just for carpet cleaning, Stanley Steemer's expertise extends to hardwood, tile, air ducts, water damage restoration, and more!
Stanley Steemer's proprietary equipment and cleaning processes remove more than 98% of dry soil from floors
With over 70 branches  and 220 franchise locations in 48 states, Stanley Steemer services 95% of the country
<iframe width="560″ height="315″ src="http://www.youtube-nocookie.com/embed/KvZpzDRPb0c?rel=0" frameborder="0″ allowfullscreen></iframe>
To enter: Tell me how long it has been since you had your carpet cleaned?
Extra entries:
Subscribe to my feed-8 entries
Blog about this-7 entries
Get a quote for your session at Stanley Steemer and leave a comment telling me what it is
Grab my button-6 entries
Follow me on twitter-5 entries
Like No Time Mommy on Facebook-4 entries
Leave a comment on any non-giveaway post-4 entries unlimited
Enter any of my other giveaways-3 entries
Tweet this giveaway-2 entries (can be done daily)
post this giveaway on Facebook-1 entry (can be done daily)
Giveaway ends May 30, 2012
Disclosure:The gift certificate, information, and additional gift pack have been provided by Stanley Steemer through MyBlogSpark.