This is a sponsored post.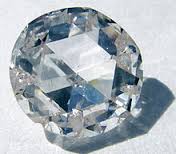 When I really need cash, I sell some of my jewelry. The truth is I don't wear a lot of jewelry and it just sits in a box. Unless it has a lot of sentimental value, there is no reason for me to store it. So why not just sell it and get a good amount of money for it.
With my rings and other jewelry my problem is I never know how much the diamonds are worth.www.diamondvaluation.com has helped me find out a good price for my diamonds and they can even sell them through the site. You can sell from anywhere worldwide.
What I love about this site is they offer better prices than most traditional outlets, and you never have to leave your house. everything is done online, and there is no need to leave the house.
On the site all you have to do is enter all your information about your diamond ring, jewelry, or loose diamonds. Then a rep will call you and verify. It's that easy, you will get top dollar for your jewelry.
Have you ever sold your diamonds? Or even just wanted to know how much they are worth?