Disclosure: No formal compensation was received, a product was provided for my review. All opinions are my own.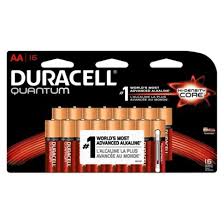 We go through batteries really fast in my house. We just use electronics that much, mainly the kids toys or video game systems etc.  We have rechargeable batteries but need regular batteries in between.
When I heard about Duracell Quantum, I really wanted to try them. They say that they last longer than any other alkaline battery.
Duracell Quantum, with its Hi-Density Core that stores more power than ever before, is the single solution for all household needs from remote controls to kid's toys.
Duracell Quantum features PowerCheck on the battery cell so you will always know how much power is left in the battery – so nothing is wasted!
*** we have these batteries in the kids Leapfrog handheld games, which go through batteries the fastest, to see how long they will last. So far day one is going good. So far one of my favorite features about the battery is the power check. I never know how much life is left in a battery and I hate throwing it out not knowing. So being able to see just how much life is left on a battery is a big plus. My daughters favorite feature is that they are the color red.
Duracell donated 1 million of these powerful batteries to first responders across the country to help protect our families. Yes, you read that right 1 million!
One of my readers will win a 20 pack of AA Duracell Quantum batteries.
Just watch the video and leave me a comment on your thoughts. (video is very emotional and sweet, you might cry).
Subscribe to my feed- 12 entries
Blog about this giveaway-9 entries
Grab my button-8 entries
Leave a comment on any non-giveaway post-7 entries unlimited
Follow me on twitter-4 entries
Tweet this giveaway-4 entries (can be done daily)
Enter any of my other giveaways-3 entry
post this giveaway on Facebook-2 entry (can be done daily)
Giveaway ends 10/13/13