Disclosure: No compensation was received for this post. I am entering a contest on behalf of Blogger Bash to win a meet and greet with Anne Geddes.
Anne Geddes will be at Blogger Bash 2014, at the Baby Palooza session. I am so excited I have been a fan for so long. I just love the beautiful pictures of babies dressed up as flowers and so much more. My daughter was a little chubba monkey and would love to try and dress up like the Anne Geddes pictures. I am hoping to get to meet her and see more of her work.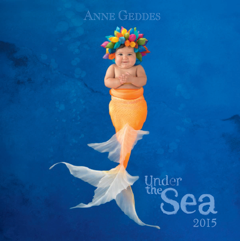 She is releasing a brand 2015 new calendar "Under The Sea", which you can pre-order now at Amazon or Barnes and Noble. The pictures are so adorable, as they feature all the creatures you would see in the ocean, including Seahorses, Turtles. To see all the pictures and where you can buy Visit Anne Geddes website.