There have been so many proven benefits for Placenta Banking and also putting your child's cord blood in a Cord Blood Bank. Placenta blood is the blood that's left in the placenta after birth. During your pregnancy, the placenta provides your baby with oxygen, water and essential nutrients and protects your baby against infection. After birth, your baby no longer needs the placenta, but the usefulness of the placenta doesn't end with delivery. Like the umbilical cord, the placenta blood is a rich source of stem cells which can be collected and stored in case your child or a close family member needs them someday.
Placenta use has become a new trend after birth from people doing Placenta Banking to eating their own placenta for medicinal benefits. It's amazing to think that something as easy as saving a Placenta or umbilical cord could be so lifesaving, but it can.
I have never done the Placenta Banking, but have done a cord blood bank. I decided to do the Banking based on the fact that doctors said my daughter would have serious medical problems. So we decided that the cord banking would help in the long run if she had any issues. Thankfully she was born healthy with no issues at all, but that cord bank will always be there for us.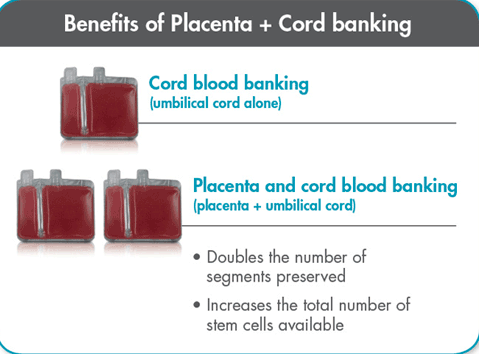 One example they have on their website is a little boy who went into remission after using his sisters placenta and cord blood. Two years later he was deemed free of Leukemia. How great is that! Just one great story that shows the power of banking your cord and placenta blood.
About LifebankUSA:
As the only company that offers cord blood, placenta blood and tissue banking — and the first to release placenta-derived stem cells for a successful transplant — New Jersey-based LifebankUSA is a technological leader that is pioneering key medical innovations in the field. Owned by the Celgene Corporation, a world-class biopharmaceutical company, LifebankUSA also operates a robust donation program and collects cells from anywhere in the US for use primarily in advancing medical research.
If you would like to find out more about Cord Blood Bank of your own, donation, or just how the process works. You can also see prices for their services and a calculator to estimate a payment plan.
Disclosure: This is a sponsored post written on behalf of LifebankUSA. All opinions are 100% my own.