We love Spam, it's one of our favorite pairings with eggs for breakfast. My kids on the other hand don't like the look of it. We have to make something out of it or hide it. Spam is introducing their new kit for the holidays, the Hello Kitty Musubi Kit.
It's the perfect way to get the kids interested In Spam and their meal.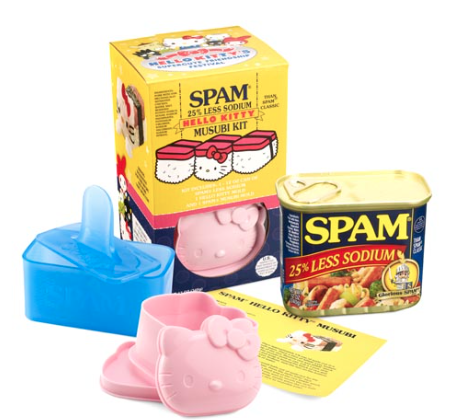 Hello Kitty Musubi kits are the perfect stocking stuffer for any foodie-enthusiast or anyone who loves Hello Kitty.
The recipe for the Hello Kitty Musubi is….
1 12-ounce can SPAM Less Sodium, cut lengthwise into 8 slices
1 cup steamed white sushi rice
1 nori sheet, cut in half
1 yellow bell pepper
1 red bell pepper
Hello Kitty musubi mold
Pack sushi rice in the Hello Kitty mold. Remove rice from mold and set aside.
Using a sharp paring knife, cut two small round circles from the nori for the Hello Kitty eyes and 6 thin strips from the nori for the Hello Kitty whiskers.
Using a sharp paring knife, cut a small bow shape from the red bell pepper.
Using a sharp paring knife, cut a small round dot from the yellow bell pepper.
Place the nori eyes and whiskers on the Hello Kitty rice mold face. Add the red pepper bow on the right side near the ear. Place the yellow bell pepper as her nose.
Place approximately 1/4 cup of sushi rice in a musubi press. Place a slice of SPAM Less Sodium on top of the rice. Remove rice and SPAM block from the musubi mold or can. Cut a 1-inch strip of nori and wrap it around the block of rice and SPAM Less Sodium. Seal the nori on the bottom with a bit of water.
Form two small balls out of sushi rice for the Hello Kitty paws. Press the Hello Kitty face gently against a short end of the rice SPAM block. Use a toothpick if you wish to secure the Hello Kitty head to the body. Gently press the rice balls to the bottom of her face to resemble paws.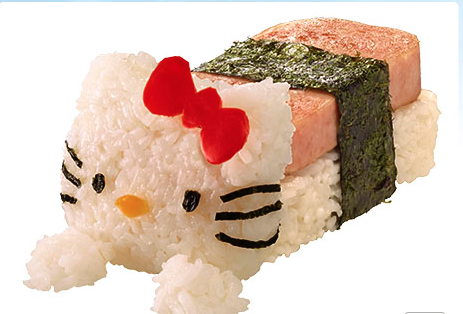 You can buy the Hello Kitty Musubi kit here.
I've partnered with Hormel Foods as part of the Hormel Foods Extended Family Blogger Program. Throughout the year I'll be receiving product, coupons, giveaways and promotions. However, no payment was given or expected for posting about the program, and as always, all opinions given here are fully my own.