Disclosure: No formal compensation was received for this post. Gift checks were received for giveaway.
ButterBall is throwing it back to relive your old Thanksgiving memories. Post a old Throwback Thursday photo on ButterBall's Facebook page.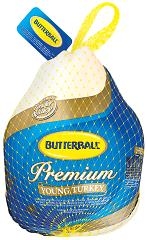 No matter when you look back, Butterball has always been a part of your Thanksgiving – right at the center of the plate and providing the best turkey advice.
• This year we're bringing the past to the present by opening the Butterball archives to share our favorite throwback recipes, memories of Turkey Talk-Line calls, debunking cooking method myths throughout the years and more.
• Share your throwback Thanksgiving memories, photos or recipes with us, too, on Butterball's Facebook or Instagram page to join the fun.
My favorite Thanksgiving memory was having everyone together when I was a kid. We would all go to my Grandmas house and she would make her secret fudge recipe it was the best time. Sadly i have no pictures to remember it by, it was so long ago.
To make your thanksgiving special ButterBall is giving my readers a chance to win a Turkey Check to help with you meal planning?
To enter: Tell me your favorite Thanksgiving memory?
Extra entries:
Put No Time Mommy button on your site-13 entries
Subscribe to my feed- 12 entries
Blog about this giveaway-9 entries
Leave a comment on any non-giveaway post-7 entries unlimited
Follow me on Bloglovin- 6 entries
Follow me on twitter-4 entries
Tweet this giveaway-4 entries (can be done daily)
Pin, Google + or stumble share-3 entries
Enter any of my other giveaways-3 entries
post this giveaway on Facebook-2 entries (can be done daily)
Contest ends 11/15 to ensure your check gets there in time.